Back when IPL started, I was a huge fan of the Kolkata Knight Riders. Such was my enthusiasm that during season 2, when KKR had lost 10 matches in a row, I still watched them chase down a massive 188 by CSK in the eleventh. However, somewhere along the way, I lost interest to such an extent that yesterday's final was the first match in IPL 5 where I did not miss a single ball.
I couldn't help but notice the similarities between Chelsea's Champions League victory and KKR's win in the IPL 5 final. Here's what I think.
The Ground:
In each of the cases, the venue of the finals was the rival team's backyard. Allianz Arena and The M.A. Chidambaram Stadium; with rival fans roaring. Neither Chelsea nor KKR had the '
favourites
' tag. Chelsea had endured a bad season to say the least, and Bayern had built a fortress back at their home. On the other hand, although KKR had a good season, CSK's revival in the last two weeks had been phenomenal. The manner in which the defeated MI, and then DD, put them straight back at the favourites spot. Both Chelsea and KKR were playing for their maiden title.
The Start:
Raina almost took it away
The match started the same way. Chelsea were on the back foot for most of the time, and Bayern finally broke the deadlock at the 83 minutes through Muller. Everything seemed over for Chelsea. Meanwhile, CSK put up 190 runs on the board after some great batting by Vijay and Raina. The Captain Gambhir getting out on a duck made the situation very '
Gambhir
' for KKR.
The Revival:
Bisla's Beautiful Innings
Chelsea struck back through Drogba just 2 minutes from time, which forced the match to extra time. On the other hand, it was an innings by Manvinder Bisla, with proper cricketing shots, who surpassed Raina's 38-ball 73 with an entertaining 48-ball 89. This is what took the game away from MS Dhoni and his boys...
Rival's comeback:
Kallis takes charge
In the first period of extra time, Chelsea conceded a penalty. Ribery, the most unpredictable of the Germans (according to Petr Cech), stepped up. He shot low to the left of Cech, but he got to it. Chelsea fans were ecstatic, their Bayern counterparts heartbroken.
Bisla got out for 89, then Laxmi Ratan Shukla and Yusuf Pathan could not deliver. However, Kallis stepped up. The one who had been quiet during most of Bisla's innings started playing shots with perfect placement. The match was KKR's to lose.
The Late Hiccup:
The Champions League final went on to the penalties. Lahm scored for the Bavarians, as Mata missed. Gomez scored, and Luiz hit it perfectly to the top right corner. Neuer stepped up and scored. FC Hollywood was leading 3-1 in the penalties.
Kallis was down. Maybe a simple cramp, maybe a hamstring problem. CSK might just have got back. 23 required off 15. After a string of singles which could have been easy twos had Kallis been fit, he somehow managed to run for a two. 16 off 8. Kallis swings his bat, and he's out. 16 required off 7. SRK looked shocked.
The Never Say Die attitude:
After a nervy penalty by Lampard, which Neuer almost got to, Olic stepped up. This would be his last kick for Bayern. He looked nervous, and he missed. Cech got to it comfortably. Cole, with a little check in his run, put a perfect penalty. Schweinsteiger hit the ball to Cech's left. A little touch by Cech was enough to make the ball hit the woodwork. Chelsea were back in it at 3-3 with one kick left for Chelsea.
Shakib Al Hasan was on strike. 16 off 7. Hilfenhaus bowls a full toss above the waistline, and Shakib hits hard. Vijay takes the catch and celebrates, which helps the batsmen take two. It's a no ball. 3 for KKR. 13 off 7 required. Another full toss, but Shakib was prepared, he scoops it over short fine leg, and four. Nine required off the last over.
The Victory:
Drogba went to take the last kick. This would prove to be his last competitive kick for Chelsea. Schweinsteiger couldn't watch. He believed he had gift wrapped the game for Chelsea. Neuer dived the wring way and could only see the ball go in. Chelsea had done it. The Kings of Europe.
After two singles off the first two, Manoj Tiwary hits a boundary over square leg. KKR fans have started celebrations. It's just 3 off 3 required. We do not have wait any longer, as Tiwary hits another four, in the same area. KKR have done it. They are the IPL Champions.
Wait, there was indeed a difference.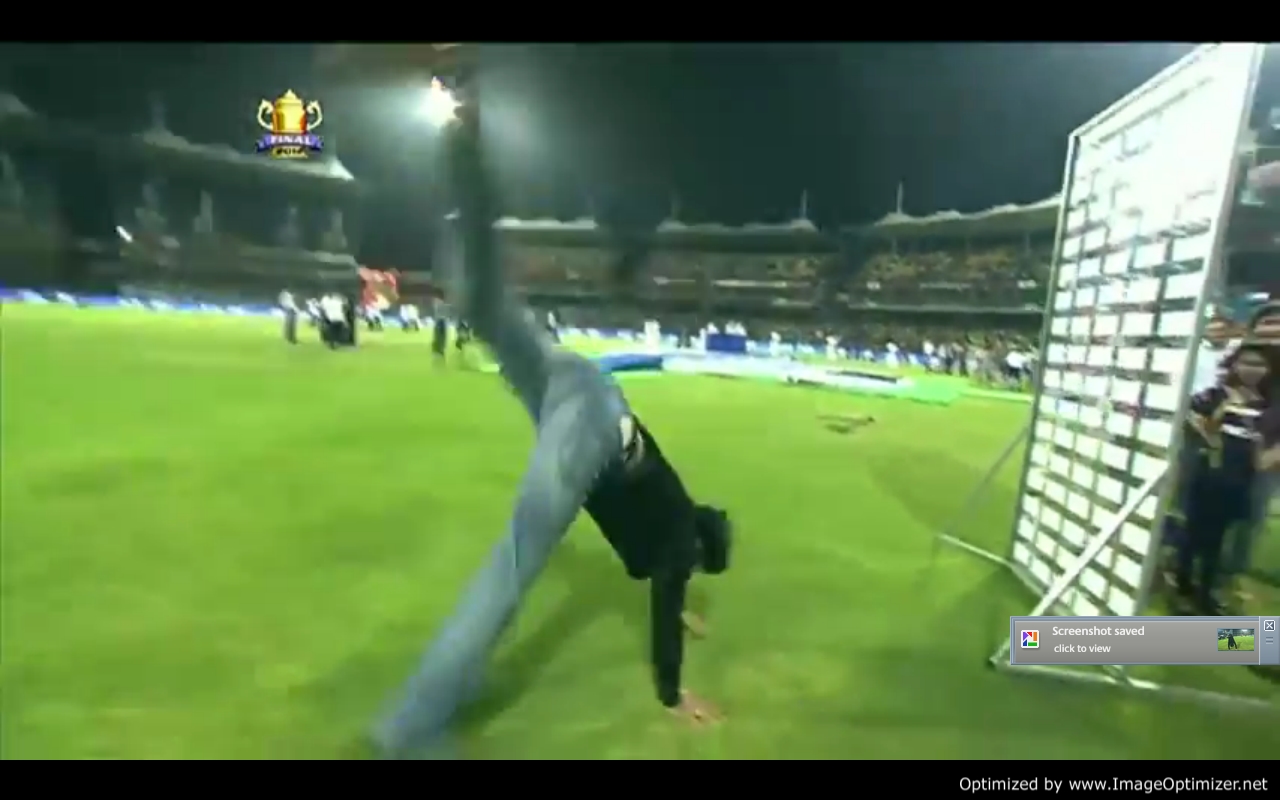 SRK's insanity
The owners. Roman Abramovich. Known for his undying love for Chelsea and his shy nature, due to which he never gives an interview(and also manages to stay away from controversies). He was at the stands, well dressed, just like a gentleman. As Chelsea won, he smiled, and hugged his near and dear ones. And every Chelsea player. After Chelsea were presented the Trophy, Drogba went on to him and handed him the same. The joy could be seen in his eyes.
In case of SRK, I hated him from the word go. After that controversy in Wankhede, and he carried on with a totally unapologetic nature. He came to the match, looking like a total hooligan, with an unshaven look. Well, if you thought it made you look cool, here's news for you. It certainly did NOT. After KKR won, he takes off a few more buttons form his already unbuttoned whatever-that-was, and almost jumps off the balcony, with everyone near him pulling him back. Is that how you celebrate? He rushed to the ground, did some cart-wheeling, danced to 'Chammak Challo' and forced his (self-proclaimed) '
cheergirls
' and '
cheerboys
' (seriously cheerboys?) to do the same. He then went on to apologize for the Wankhede incident, but in a weird way, almost jumping while doing so. He went on talk of the fact that he would be visiting America soon (remember he was stopped at the airport?) That was the point I switched off the TV. It was too much. All I can say, SRK, learn something from Abramovich.